Journey to the Days of Knights and Kings at Medieval Times
Medieval Times is a favorite for families from all over, including mine. It is not just a dinner show, it's a complete experience.We were given complementary seats for the purposes of this review, but all opinions are my own. From the moment you enter the castle, you are taken back to the time of knights and chivalry. This trip, we were able to have our group picture taken with the King while wearing our yellow crowns. It was our first time cheering for the yellow knight.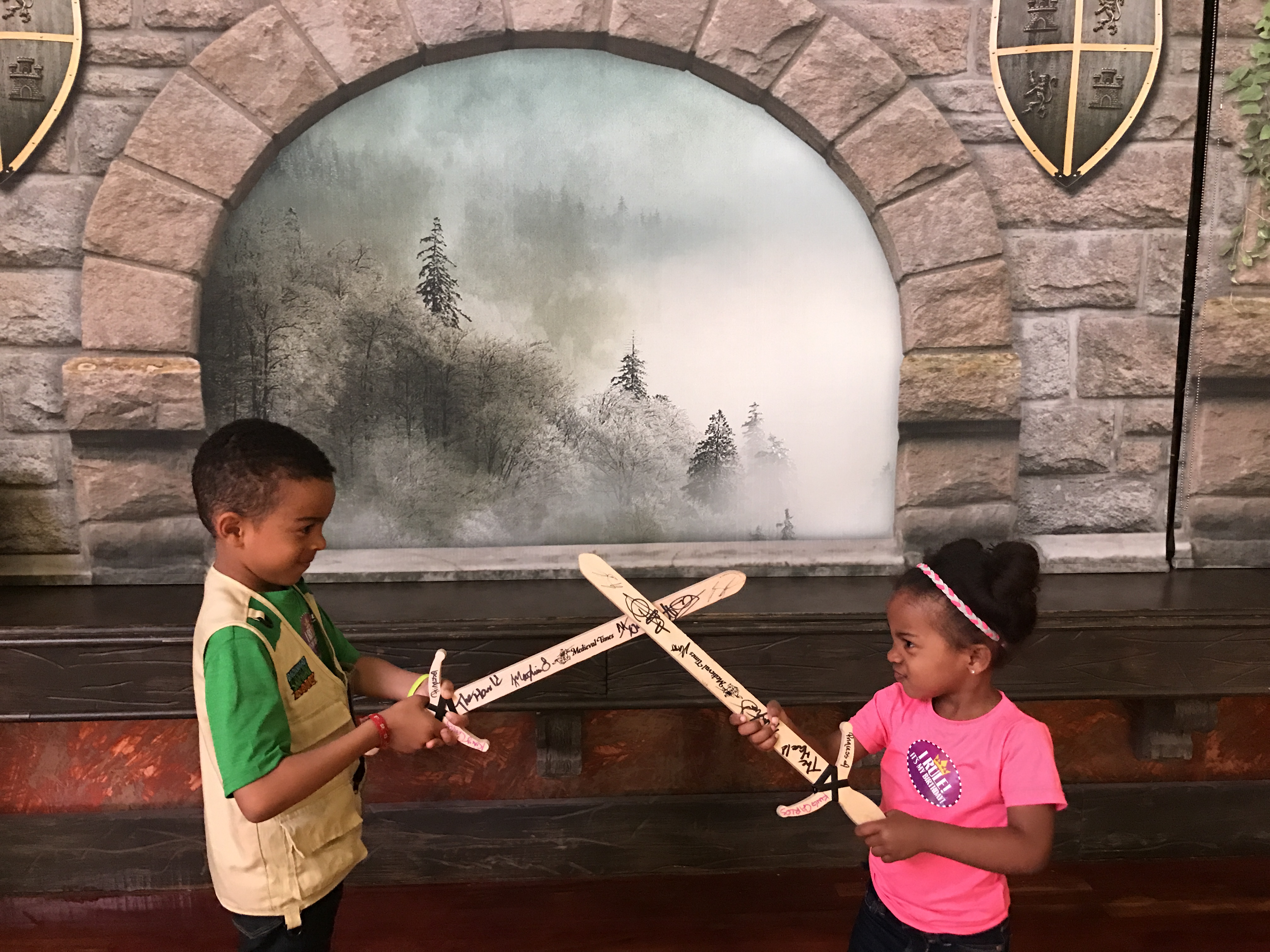 ​
Before the Show:
While we waited to be seated, we explored the castle. We got to see the two trained hawks as well as the owl. I did not take my two little ones on the dungeon tour, simply because most of it is beyond their understanding.  If you are a history buff, you will really enjoy reading all about the medieval torture devices on display in the dungeon. We witnessed knighting ceremonies, where children celebrating special events were taken up to the king and knighted in front of everyone. 
*There are several packages you can purchase that include knighting, definitely check them out.
If you get thirsty, you can purchase sodas and adult beverages at the bar in a variety of keepsake mugs and glasses to sip on as you wait. There are also souvenirs for purchase such as princess hats and gowns, swords, shields, chess sets, and more.  My two knights in training couldn't wait to purchase wooden swords and practice their skills.
The Medieval Times Dinner Show:
This show delivers audience favorites like live jousting and dramatic sword fights. Each of the six Knights of the Realm are named after historic regions of medieval Spain. Guests are encouraged to cheer and boo the knights during the show, and even I was on the edge of my seat during some of the battle scenes. We were cheering for the Yellow Knight this time and were able to sit up close to the action in the front row.  
​ A 4 course meal is included in the price of your ticket. This is served during the show without utensils, so you are entertained as you eat. The "wenches" and "serfs" are terrific and remain in character, answering all of  your requests with "Yes, my Lord", or "as My Lady wishes". 
The Medieval Times Dinner Menu Includes:
pureed tomato soup
garlic bread
roasted chicken half
half a potato
a pastry
your choice of sweet tea, water, or Pepsi
There is also a vegetarian option, and they are able to accommodate most food allergies if you let your server know in advance. The portions are large, and the kids love eating with their fingers; after all, there was no silverware during medieval times! Don't worry, they provide warm wet-wipes after the meal to clean up your hands and faces!
If you have a child who is uncomfortable with eating with their hands, bring them a set of plastic tableware.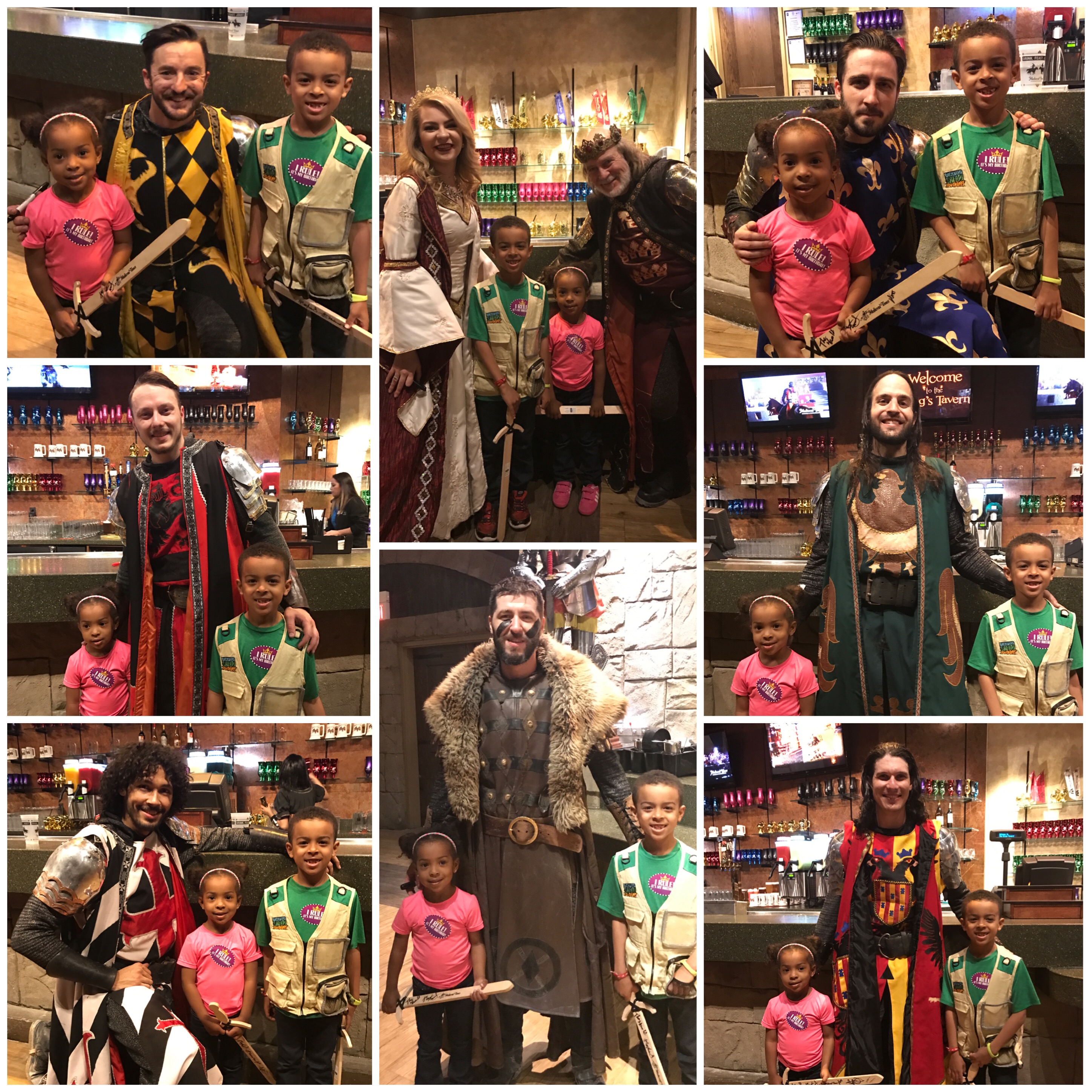 *Tip: The knights have their own markers and will sign your wooden Medieval Times sword, making it an awesome souvenir!*
This show provides heart-pounding entertainment, lots of crowd participation, stunning and talented horses,  pageantry and a feast "fit for a king"! Your family will have a blast and be talking about it long after you leave.