Have a Fun Monster Movie Night with Hotel Transylvania 3
---
About the Movie
The Drac Pack is back with HOTEL TRANSYLVANIA 3! Grab your copy on Blu-ray™ Combo Pack and DVD on October 9, just in time to for a spooky, fun, family movie night right before Halloween! Mavis surprises Dracula with a family voyage on a luxury, haunted monster cruise ship. Of course, the rest of the Drac Pack has to tag along, and that's when things get a little…batty.
The monsters are having a great time, indulging in all of the shipboard fun the cruise has to offer, from monster volleyball to colossus-sized buffets and exotic excursions. Then, the unexpected happens when Drac falls for the ship's mysterious (and dangerous) human captain Ericka. We won't go into too much detail to keep from spoiling it for you!
The third film in this family-friendly monster franchise is the best reviewed installment and you're invited along on the haunted cruise vacation! Hotel Transylvania 3 has a run time of approximately 97 minutes and is rated PG for some action and rude humor.
Our Thoughts
We have now seen all 3 of the movies in the Hotel Transylvania trilogy, and love each one. However, you don't have to wait to see the first two Hotel Transylvania movies to enjoy the latest one. You will meet lovable and memorable characters like the Blob, Frank (Frankenstein), and the Invisible Man.  We were laughing and smiling at the jokes and antics of Drac and the gang, and the music made us want to get up and dance. Since we just went on a cruise in April, it was fun to see the activities monsters might enjoy if they were on a cruise ship. Both of my kids enjoyed the film, and so did I. We will be enjoying this great movie all year long, not just for Halloween. .
For even more fun, check out these Hotel Transylvania 3 Pumpkin Carving Stencils!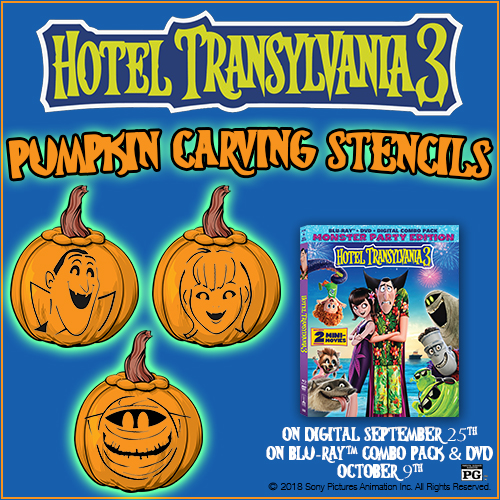 Do you love Halloween movies? Check out our list of Top 10 Halloween Movies for Families.